Services

State Inspections
State Law requires that you periodically have your vehicle pass a comprehensive vehicle safety inspection. We're here to help!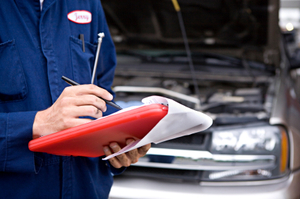 State inspections are a necessary evil, and this important check is required by state law. Check this task off of your to-do list with our help.
In many states, vehicle inspections are required by law to drive on the roads in that state. Since you live in a state with inspection requirements, you need to know where you can go to get this chore done. We offer state vehicle inspections that ensure your vehicle is properly maintained and ready to drive safely.
Let Our Professionals Handle Your State Inspection
A safety inspection ensures that your vehicle is safe to drive on the road. It may also check for emissions that damage the environment. A safety inspection can reduce the risk of vehicle failure, a problem that puts both the driver and the passenger at risk.
When the time comes for your annual state-required inspection, we have a team of friendly, efficient technicians that can give a thorough report of your vehicle. We work quickly, but accurately, so you can be on the way with this task done for the year.
What to Expect from Your Safety Inspection
When you come to us for your safety inspection, you can expect:
· Service from a friendly, efficient technician
· Inspections for all makes and models of vehicles
· Option to save time with a scheduled appointment
· An inspector is always on duty
· Thorough evaluation of your vehicle's function and performance
If we find any problems during your safety inspection, or if your car fails, we can offer help to repair the issue. Our technicians can perform most of the repairs you would need to get your car back in good, working order.
Don't put off this necessary task any longer. Schedule your state inspection today, and make sure you are following state laws and operating a safe vehicle at the same time.